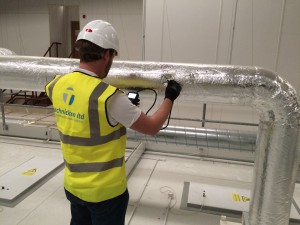 Technickon are a specialist engineering company serving the controlled environments and cleanroom business sector in the UK, Ireland and globally.
We work with large pharmaceutical brands around the globe and small companies that benefit from our excellent service and technology that has evolved over many years.
If you have a specialist room application but unable to find a solution or a solution on our website we will design and provide you with one, chances are we have done a similar project in the past.
The technology we use for all of our validated pharmaceutical stability rooms, cleanrooms and incubator rooms is now available to be integrated into your application.
70% of our turnover is repeat work from existing clients who we have assisted in the past which is testament to our exceptional service.
From concept to completion your project will be designed and delivered by experienced competent engineers, with a friendly and knowledgeable approach you will be in safe hands.
We excel at quickly providing bespoke solutions when a standard off the shelf solution is not available, we are not restricted by standard products and sizes which is why we are often the preferred supplier because we design and build facilities to exactly match your requirements – why compromise when we will have a solution?
We strive to provide the best engineered solution and have delivered this promise with a 100% track record over the past 25 years, with many years experience operating in the pharmaceutical industry you can feel confident your project is in safe hands.
We develop personal, trusted working relationships with our clients based upon sound engineering advice and the achievement of results.
We have in house design capability for all building services and equipment design.
Often we are introduced to new clients because they have exhausted all other possible solutions to either resolve a persistent technical issue or to source a specialist product – we strive to find and provide the perfect solution.
Our in-house expertise includes among others:-
Close controlled specialist rooms (temperature and humidity)
Bespoke applications and designs
Fully validated and qualified systems for pharmaceutical products
Electrical systems
Cleanroom HVAC systems
Laboratory HVAC systems
BMS HVAC controls
Full HVAC design
Construction and project management
Cleanroom design and fault identification
Cleanroom furniture and equipment
Door interlocking systems
MHRA / FDA licensed facilities
GxP facilities
If you need a specialist or bespoke facility or just want an excellent service from a company run by passionate engineers just give us a call to discuss your requirements.