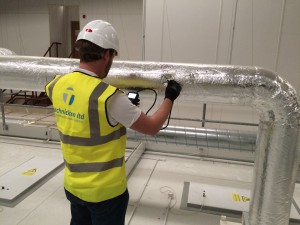 Technickon are specialist engineers serving the controlled environments and cleanroom business sector.
We excel at quickly providing bespoke solutions where a standard off the shelf solution is not available.
We strive to provide the best engineered solution and have delivered this promise with a 100% track record over the past 15 years.
We develop personal, trusted working relationships with our Clients based upon sound engineering advice and the achievement of results.
We have in house design capability for all building services and equipment design.
Often we are introduced to new Clients because they have exhausted all other possible solutions to either resolve a persistent technical issue or to source a specialist product – we strive to find and provide the perfect solution.
Our in-house expertise includes among others:-
Electrical systems
Cleanroom HVAC systems
Laboratory HVAC systems
BMS HVAC controls
Construction and project management
Cleanroom Design
Cleanroom furniture and equipment
Door interlocking systems
MHRA Licensed facilities
Cleanroom Disaster recovery