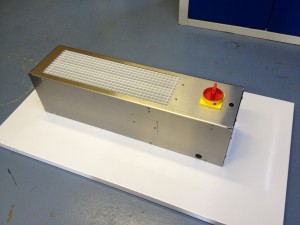 We were contacted by BPL following a fire caused by one of their incubator room heaters.
The heaters were assessed as standard wall heaters used for domestic heating with minimal safety features.
Due to the small space and requirement for monitored heaters with safety cut out features technickon engineers designed and tested a compact bespoke heater and retro fitted these into 6 incubator rooms (12 heaters in total – Run / Standby).
The heaters were installed, tested and commissioned by technickon. Our Client required staged installation works which involved installation during out of hours working.
Due to the success of the heater design we have added this 3Kw model to our technickon approved standard incubator parts available in 3Kw versions with the option to reduce the output to 1.5Kw.
Nick Davis comments:
"A challenging project due to space restraints within the existing rooms, we built four prototypes and chose the final design based upon extensive workshop testing results for room control, this is an excellent addition to our technickon approved and tested incubator product range."