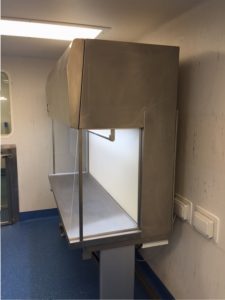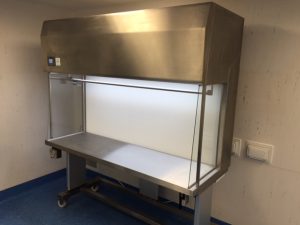 We have recently designed, manufactured, installed and validated 20No. 1800mm wide 316L Stainless Steel Horizontal Laminar flow cabinets for a UK based pharmaceutical manufacturing company.
The horizontal laminar flow units are constructed from 316 stainless steel to permit full wash down using common sanitation sprays.
The units are fully built and tested in our UK workshops and delivered to site it two sections (Upper and lower base frame)
The units have the following features:-
H14 HEPA Filtration
HEPA filter pre flow grille to even out the air flow across the filter face.
Air flow fail alarm
Digital controls including HEPA filter differential pressure monitor
LED Lighting (Day light)
Height adjustable stand (Electric drive)
Full 316L stainless steel construction
Fully speed controlled fan adjustable by the HMI interface located at the front of the unit
Easy fan change access built under the front hood
Full validated and commissioned on site including full qualification (DQ/IQ/OQ/PQ)
We can design and integrate any user requirement.
Call us today to find out how we can assist your project.