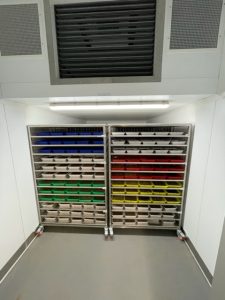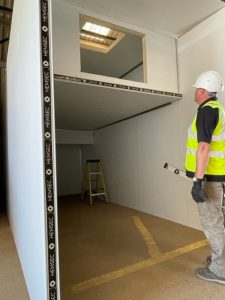 These bespoke  soil sample drying rooms are used to dry wet soil samples within an 18 period but the room must not go above +30oC.
Drying soil samples at higher temperatures is straight forward and quick but restricted to +30oC it takes careful design to make it happen.
The room is fully bespoke and didn't work first time, the samples were dried in 25 hrs which wasn't fast enough, we made a few optimisation modifications and the rooms achieved 15hrs (3hrs ahead of the target).
Utilising our knowledge of design we found the perfect solution – in the end.
Did you know that our farms soil has a finite number of growing seasons left and the clock is ticking.
After this the soil will struggle to provide nutrients for crops to grow.
This is the legacy of Intensive farming.
But like most problems, someone else is taking care of it or at least looking at what could be done and we are playing a small part in that effort.
We were appointment by a leading testing company to design and build many sample conditioning rooms to begin the process of testing all of Irelands farmlands to see what effect modern fertilisers and intensive farming is really having to enable a solution to be found and also to provide the farmer with a detailed report to allow them to rotate crops to soil that is best suited to support that crop.